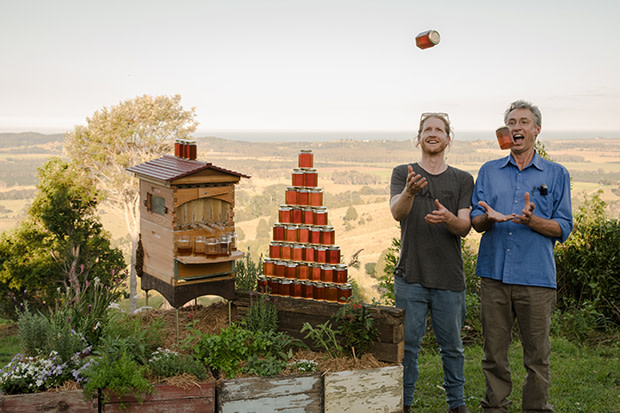 Bees didn't used to be a topic of conversation. These days, we're hearing more and more about how the bee population is in danger, and the repercussions of the bee species dying off. For years, not much was done in the consumer world to combat this. We all worried about prices of honey rising, and maybe planted some wildflowers in our backyards, but that was about it. At least, until the Anderson family came along.
The Andersons have been beekeeping for three generations. Father and son duo Stuart and Cedar Anderson recognized a problem in the beekeeping industry – harvesting honey was disruptive to the bees, and often resulted in the beekeeper being stung. "There must be a better way," Cedar remembers thinking at a very young age – he began beekeeping when he was only six years old. Stu and Cedar tinkered with designs for almost a decade before coming up with the Flow Hive.
Stu and Cedar launched an Indiegogo campaign in February 2015 that would quickly become one of the most successful crowdfunding campaigns in history. Their humble goal of $70,000 was reached within minutes of going live. Flow Hive holds the title of the most successful campaign ever launched on Indiegogo. So, what's their secret?
For starters, they had identified a problem and pain that seriously lacked a solution. Bees were already on the forefront of people's minds – Flow Hive offered a way for people to be connected. Stu says, "I think people saw Flow as a sort of drawbridge to connect them with the natural world." Nothing like this product had ever been offered before, and they had an already established niche market of beekeepers – but their market extended past that because of the usability of the product. With Flow Hive, anyone could be a beekeeper.
The Internet played a massive role in the success of Flow Hive. They started a social media campaign less than a month before their Indiegogo campaign began. The goal was to tap into their personal networks and gain a few beekeepers, but the videos Cedar had made for the campaign went viral – the Andersons attribute it to help from friends and family and a genuine interest in bees and the concept of beekeeping. Their campaign page was clear, descriptive, and showed the passion Stu and Cedar had for their project. By the end of the campaign, Flow Hive had raised over $13 million from 38,000 contributors.
Flow Hive is a perfect example of how the Internet can exponentially grow the success and reach of a start-up. Without it, there's a slim chance we would have heard about a normal father-son duo from Australia and their groundbreaking idea to innovate beekeeping.
Check out the Andersons' story of the Flow Hive invention process: